"Toru": a Play that Reverses the Wisdom of Age Using Mosquito Sound #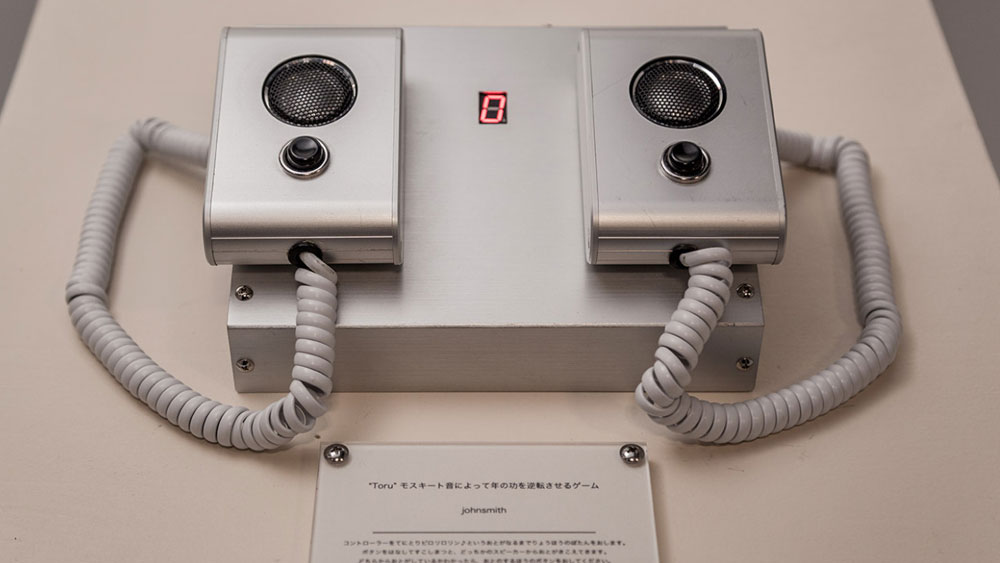 "Toru"モスキート音によって年の功を逆転するあそび #
 「"Toru"モスキート音によって年の功を逆転するあそび」は、モスキート音(超高周波音)を利用したデバイスを用いた遊びである。
この遊びは歳をとるほどに周波数の高い音が聞こえにくくなるという、老人性難聴の効果を難易度設定に利用している。この難易度では若年者であるほど難易度が優しく、熟年者には回答が難しくなっており、これにより例えば親と子供や、上司と部下のような関係に存在する年齢由来の経験値差「年の功」を逆転させる機会を提供している。
この遊びでは左右のスピーカーとボタンが一体化したコントローラーから聞こえてくる音の左右を判別し、ボタンを押すことで進行する。スピーカーからなる音は4000Hz~20000Hzを使用しており、4回正答するごとに難易度が一段階上がり2000Hz高い音が試行に混ざるようになっている。難易度が上がっていくと体験者の年齢による聴力差によって、いずれかの段階で音を聞くことができなくなってしまう。そしてそれは、年齢の高い人にほど早く訪れるのである。
"Toru": a Play that Reverses the Wisdom of Age Using Mosquito Sound #
"Toru": a Play that Reverses Wisdom of Age Using Mosquito Sound developed as a person ages using ultra-high-frequency (mosquito) sound.
This play is using age-related hearing loss. Our hearing range of Mosquito is declining with aging. Therefore, using this effect, then provides an opportunity to reverse the wisdom of age. For example teachers and students, parents and children.The player uses two hands held device with cable each has a speaker and a button, put in the left and right. The trial is finding a sound from each speaker then push this side button.
Sound are saw wave, 4000 Hz to 20000 Hz. If you clear every four trials, then next for trials mixed higher frequency.
Because of individual variations in hearing ability, sooner or later, older guys become less able to hearing these treble sounds, during those terms.
photos #